Graywind Motorized Outdoor Shades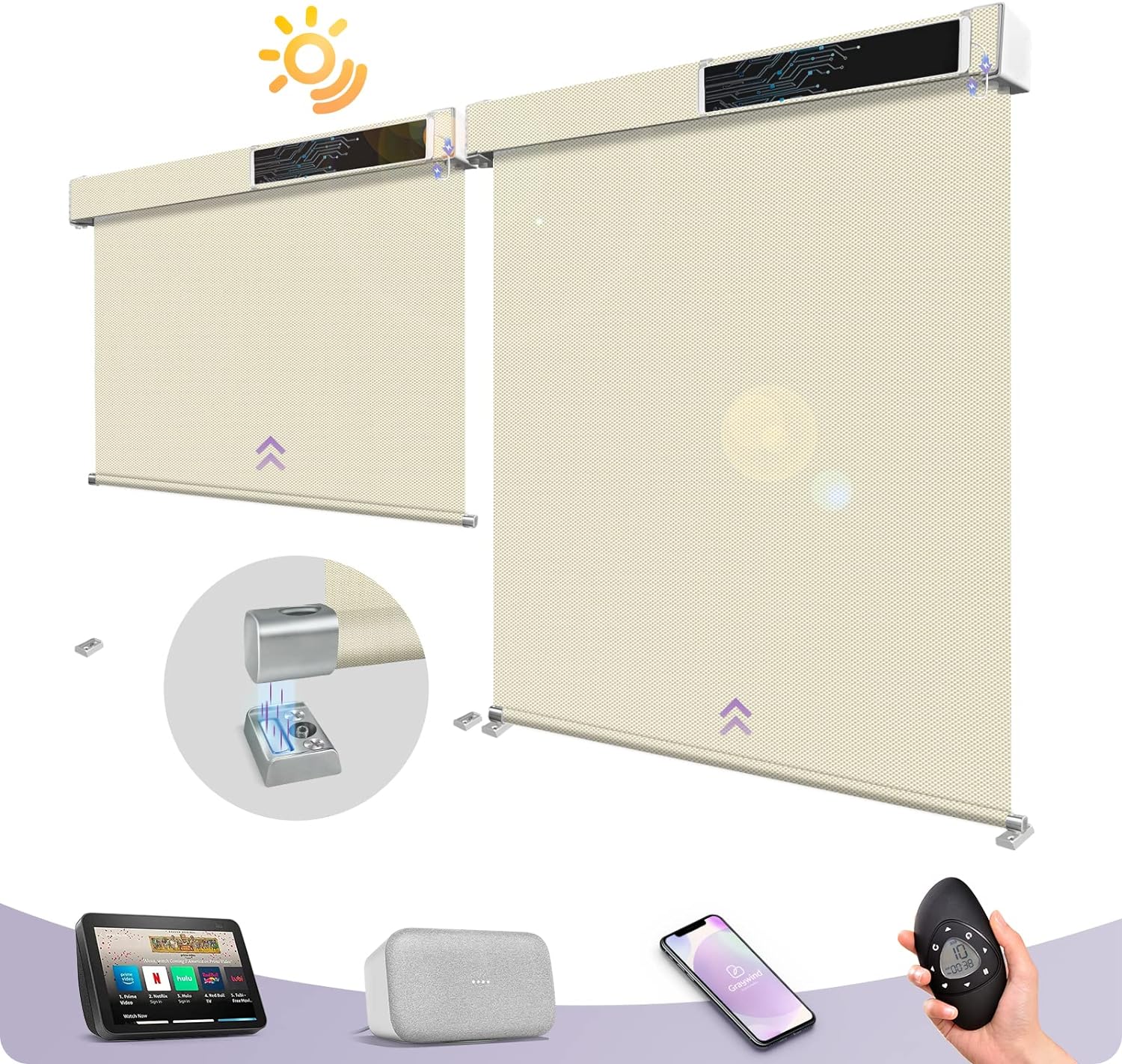 Attention outdoor enthusiasts!
Introducing the Graywind Motorized Outdoor Shades, your ultimate solution for stylish and convenient sun protection. These shades are designed with your comfort and style in mind, offering a seamless blend of functionality and elegance.
Imagine enjoying the serenity of your outdoor space, shielded from harmful UV rays while still relishing the breathtaking view outside. Our Graywind shades, made from high-quality fiberglass material, provide you with 97% UV protection and a light control glassfiber that keeps your surroundings visible.
Installation is a breeze with our innovative design. Choose between two installation options – use the included wire guides for added stability or opt for the wire-free magnetic fixing mode for a safer environment for your loved ones, including kids and pets.
But this is not all! Our shades are solar-powered, offering you a cost-free and environmentally friendly energy solution. Embrace the lazy days with our automated 15-channel timing remote that allows you to control up to 15 shades individually or as a group. Set your favorite position for ultimate convenience.
With our versatile Ble/rf motor solution, you can effortlessly control your shades using the Graywind App via Bluetooth. No smart bridge required! Adjust the percentage control, set top/bottom limits, and even monitor battery status right from your fingertips. It is perfect for those who prefer remote control or app-based operation at home.
For an even smarter experience, opt for our Zigbee motor solution. Compatible with various Alexa models and Google devices, you can now enjoy voice command control, group settings, and percentage adjustments. The 2.4GHz Zigbee Hub allows seamless integration with other smart devices.
And the best part? Our Graywind Motorized Outdoor Shades are customizable! Simply click 'customize now' to tailor the dimensions and details to your specific needs. Within 4-5 business days of custom production, your shades will be ready to enhance your outdoor space.
Don't wait! Elevate your outdoor area with the Graywind Motorized Outdoor Shades and experience the perfect blend of style, functionality, and convenience. Order now on Amazon and enjoy 5-8 business days of shipping.
(Note: Please check Amazon reconfirmation messages within 24 hours of placing your order. If we don't receive a reply within 48 hours, your order will proceed as requested.)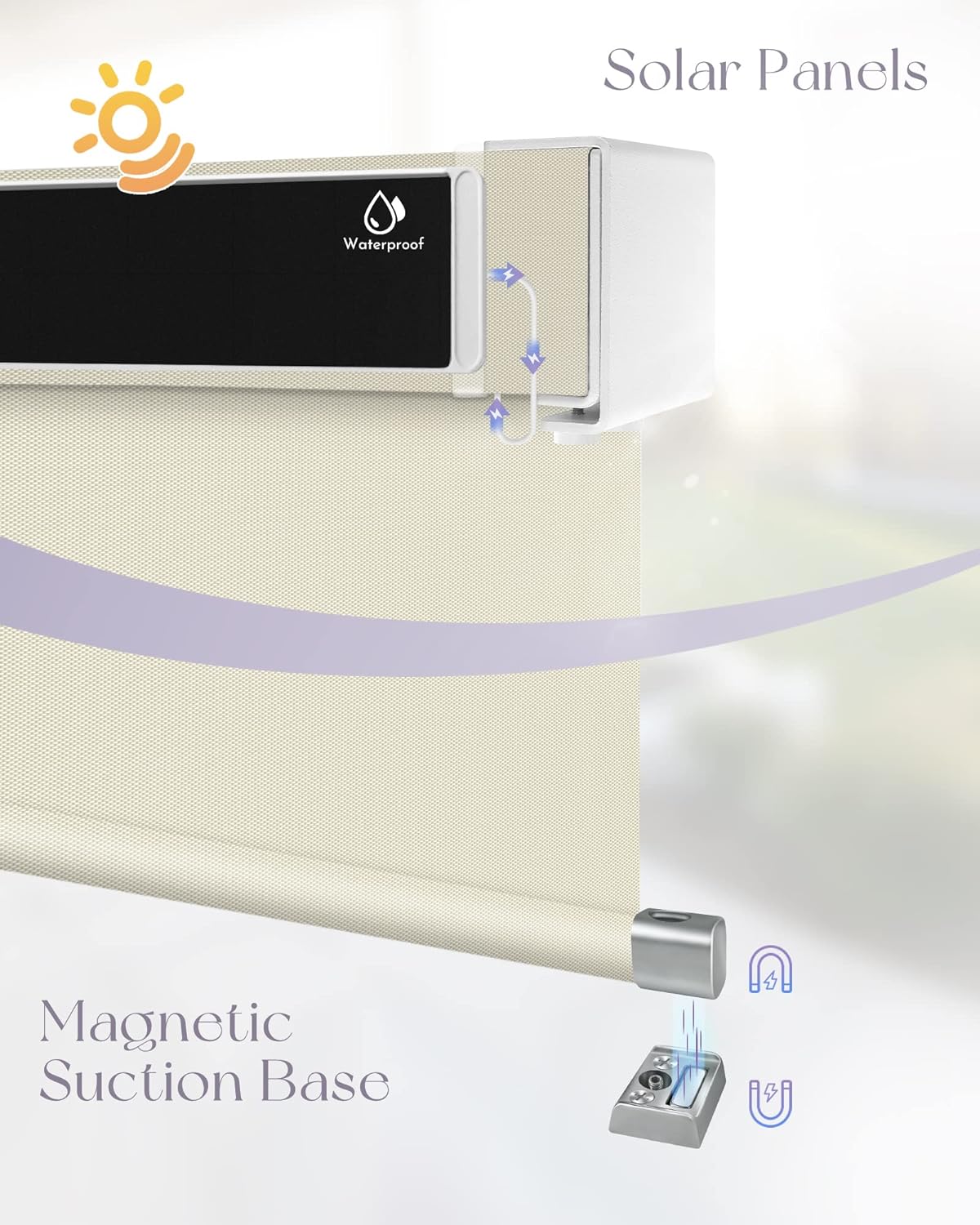 Key Technical Specifications:
Material: Fiberglass
Product Dimensions: 120'L x 94'W
Brand: Graywind
Color: Chocolate
Opacity: Light Control Glassfiber
Installation: 2 ways to install (with wire guides or without)
Solar Powered: Yes
Openness: 3%
UV Protection: 97%
Magnetic Fixing Mode: Yes
Safety Feature: Safer for kids & pets when installed without wire guides
Energy Source: Solar power
Waterproof: Yes
Windproof: Yes
Smart Control: 15-channel timing remote control
Favorite Position Setting: Yes
Date-Time Groups: 20 available
Ble/RF Motor Solution: Bluetooth and RF support
Smart Bridge Requirement: No
Control Range: Approx. 99ft/30m
Percentage Control: Yes
Top/Bottom and Favorite Limit Positions Setting: Yes
Battery Status Display: Yes
Recommended Users: Home users who control smart blinds via remote controller or app
2.4GHz Ble Hub: Available for creating groups, setting timing schedules, and Alexa & Google control
Zigbee Motor Solution: Works with specific Echo devices directly, no hub required
Voice Control: Yes, including group and percentage control
2.4GHz Zigbee Hub: Available for connecting with other Alexa models & Google
Made-to-Order: Customizable dimensions and details
Order Process: Amazon reconfirmation messages within 24 hours, order proceeds if no reply in 48 hours
Custom Production Time: 4-5 business days
Shipping Time: 5-8 business days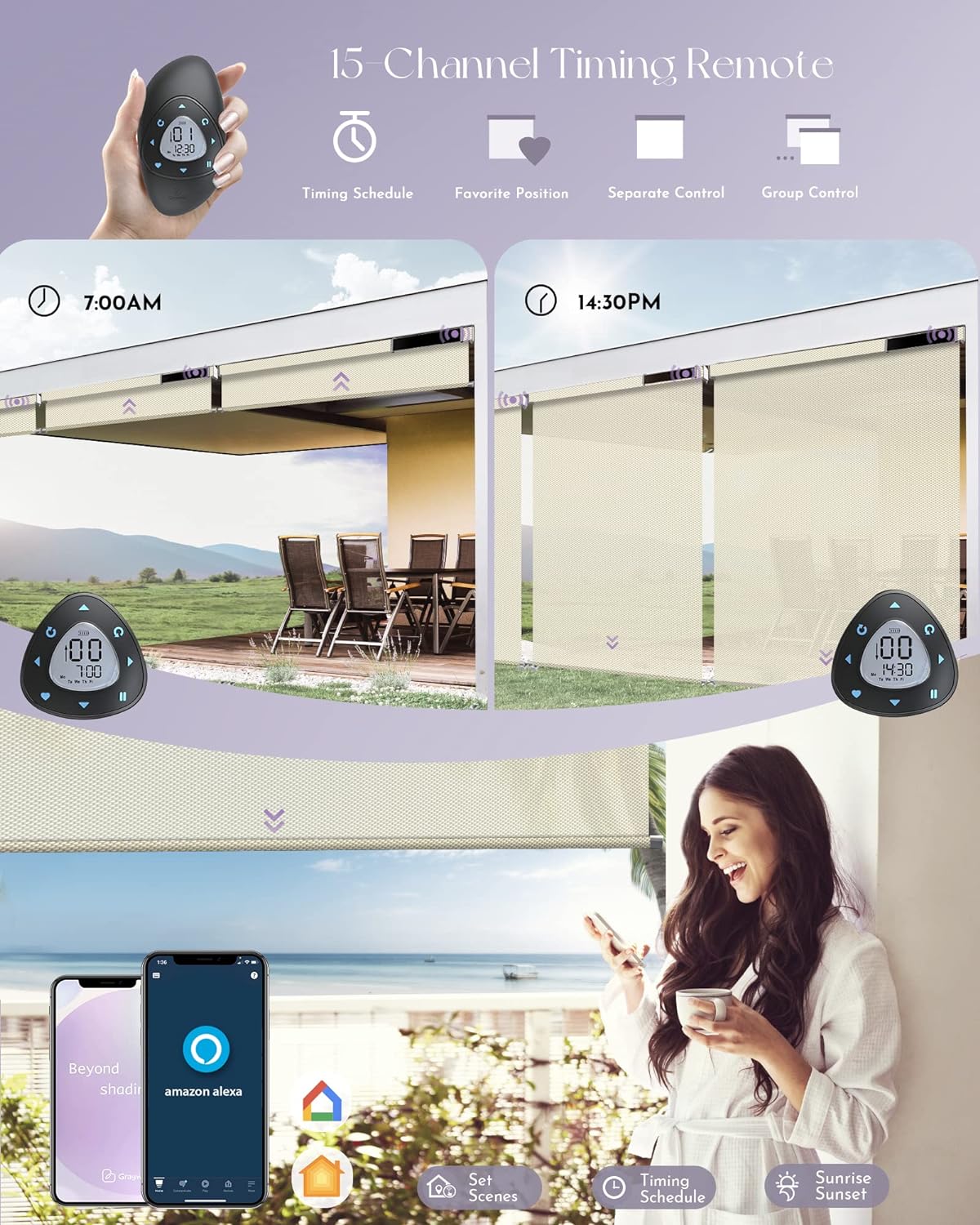 Pros
Highly customizable with made-to-order options
Solar-powered and energy-efficient
Waterproof and windproof, suitable for outdoor use
Offers light control with 3% openness and 97% UV protection
Safety feature makes it safer for kids and pets
Comes with a 15-channel timing remote control for smart control
Voice control compatible with Alexa and Google devices
Easy installation with two options: wire guides or without
Battery status display for convenient monitoring
Wide control range of approximately 99ft/30m
Cons
Requires Amazon reconfirmation messages for order processing
Custom production time of 4-5 business days before shipping
Requires separate hubs for advanced features like creating groups and setting timing schedules
Zigbee motor solution only works with specific Echo devices, limiting compatibility